Opening a Restaurant? Here's What to Look For in a Point of Sale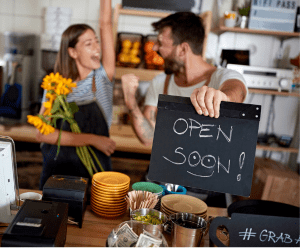 POS Tips For New Restauranteurs
Running a restaurant is no easy feat, and one of the most critical decisions you'll make is selecting the right point of sale (POS) system. Your POS system will serve as the foundation of your restaurant's operations, so it's crucial to choose one that aligns with your requirements and budget. The point of sale market is expected to grow to $18.1B by 2028 .
To help you make an informed decision, here are some crucial factors you should consider when selecting a POS system for your restaurant:
When choosing a POS system for your restaurant, the type of operation you run plays a significant role in your decision.

For example, fine dining establishments typically require a more comprehensive and sophisticated POS system that can handle reservations, table management, and multiple courses.

Casual full-service restaurants, on the other hand, may not require such advanced features but still need a robust POS system to manage orders, inventory, and staff.

Fast-casual restaurants need a system that can handle high volumes of orders quickly and efficiently, while food trucks require a mobile POS system that can handle payment processing on the go.

Understanding the different levels of service required by your restaurant type is crucial in selecting a POS system that meets your needs. 
On one hand, you don't want a POS that lacks features depending on your service. On the other hand, you don't want to get stuck in an expensive contract with for a point of sale that's above your needs.
We service a number of different types of restaurant operations. Here are some of the most common:
Casual Full Service:
You're a restaurant that offers standard table service to your customers. These restaurants typically have a more relaxed atmosphere than fine dining restaurants and offer a more casual experience for diners. Customers can expect to be seated at a table or on a patio, where they will be served by a staff member who will take their order and deliver their food.
The menu at a casual full-service restaurant usually features a range of affordable options that appeal to a wide variety of tastes. Diners can expect to find a range of dishes, including appetizers, entrees, and desserts, as well as a selection of drinks, including wine, beer, and cocktails.
The OrderUp POS works well in these types of restaurants because there tends to be less stress on an over the top or mind blowing experience. Customers tend to go there for lunch, dinner and have their expectations set on solid service, solid food. Our hybrid ordering system works great with this crowd because they're able to order & pay from their phone, speeding up the process of a quick lunch, for example. For the restaurant, they're able to operate with less staff during busy times.
Fast Casual:
establishment that offers quick, counter-service meals that are made-to-order. These restaurants typically have a more relaxed atmosphere than fast-food establishments and offer higher quality food with more customization options for customers. Customers can expect to order their food at a counter, and then either take it to go or sit in a designated seating area.
Fast-casual restaurants are often popular among people who want a quick and affordable meal that is also high-quality and customizable. These establishments typically have a smaller menu than full-service restaurants, but still offer a range of options for customers to choose from.
OrderUp's simple POS is perfect for fast-casual restaurants because it is affordable and easy to use. These types of establishments don't typically require advanced features or expensive hardware/software to run their business efficiently.
OrderUp's system is designed to be straightforward and user-friendly, allowing fast-casual restaurant owners to easily manage their orders, payments, and staff. Additionally, OrderUp's system is mobile-friendly, allowing customers to place pre-orders online or via their mobile device, which is increasingly important for fast-casual restaurants that want to offer convenient ordering options for their customers.
Food Trucks, Food Halls & Unique Venues
Our QR code order & pay system is perfect for niche or unique venues such as golf courses, comedy clubs, food trucks and food halls. It really unlocks a lot of potential to elevate the guest experience and streamline operations at all of them. Take for example our partner Lazy Daisy's. They are unable to have a patio in front of their shop because of a bus stop. So, they were able to put one down the street. There, people can grab a seat at the patio, place their order, and get a text when it's ready to be picked up.
Affordability and Price Point
Point of sale systems for restaurants can vary in price, but typically cost over $1,700 in initial set up, and well over a baseline $1,400 per year! (with OrderUp it's $0/month or year).
For restaurants, profit margins can be incredibly tight, and they're only going to get tighter in 2023.

That's why it's crucial to find a POS system that not only fits within your budget but also offers a good balance of features that can help streamline operations and increase efficiency. 
Investing in an expensive POS system can put a significant strain on your already tight profit margins, and it may take a while to see a return on your investment. 
On the other hand, going with the cheapest option available may save you money upfront, but it may not have all the features you need or may be less reliable. 
So, finding the right balance between cost and features is essential to ensure that you're getting the most value for your money.
Expensive point of sale (POS) systems can be a major hurdle for small businesses and restaurants that are already struggling with low profit margins. Traditional POS systems can cost thousands of dollars, which is simply not feasible for many small businesses. This can be especially frustrating for restaurant owners who need a reliable and efficient POS system to run their operations smoothly. The reality is that these high costs can be a barrier to entry for small businesses and can prevent them from competing with larger chains.
That's why we offer our POS and all our features for $0/month. We believe all restaurants deserve to have a reliable point of sale that works for them, without breaking the bank. 
We're able to do this by charging a small service fee to the diner on each order. We have processed millions of transactions to date, and most customers understand that by paying a small fee (under $.90) they are directly supporting the restaurant, their owners and staff.
Features are another critical factor to consider when selecting a POS system for your restaurant. While more features can mean increased functionality, they also come at a higher cost.
Some POS systems offer features such as online ordering, inventory management, loyalty programs, and advanced reporting.
However, not all restaurants need all the features, and paying for them could be an unnecessary expense. In general, more features equals more monthly costs.
It's crucial to assess your restaurant's specific needs and select a POS system that offers the features you require at a price that aligns with your budget.
Additionally, keep in mind that too many features could lead to a cluttered and confusing interface, making it challenging for your staff to operate efficiently.
A POS system that strikes the right balance of features and ease of use can help streamline your restaurant's operations and improve the overall customer experience.
Traditional Order Input & Payments: Like any POS, operators can input orders and process payments via cash or card.

QR code ordering and payment: Customers can scan a QR code to access the restaurant's menu and place their order, then pay directly from their mobile device. This feature helps to streamline the ordering process and reduce wait times for customers.

Digital tab system: OrderUp's digital tab system allows guests to start a tab directly from their phone, and leave on their own time. Servers to easily manage and close tabs if and when a table leaves. They're also able split payments, which can help to speed up the payment process and reduce errors.

Hybrid ordering solutions: OrderUp's hybrid system allows customers to place orders and pay from their phone via QR code or from a server. This gives customers the option to order from their mobile device or in-person at the restaurant, and gives them more control of their dining experience.

Staff management & reporting: OrderUp's POS system includes features for staff management, including time clock and scheduling tools, as well as sales tracking and reporting.

Promotions: OrderUp's system includes tools for creating and managing promotions, to help attract and retain customers.
All of these features are included in OrderUp's $0/month pricing plan, which is a major advantage for restaurant owners who want an affordable POS system that includes all of the necessary features to run their business efficiently. Additionally, OrderUp's system is easy to set up and use, with no hidden fees or long-term contracts, making it a great option for restaurants of all sizes and types.
When selecting a POS system for your restaurant, it's essential to consider the level of support and maintenance that comes with it. A POS system is a complex piece of technology, and any downtime or malfunction could significantly impact your restaurant's operations. As such, you need to ensure that your POS system provider offers reliable technical support to address any issues that may arise.
Some POS providers offer 24/7 technical support, while others have limited support hours. It's crucial to understand the level of support your provider offers and how quickly they can address any issues that may arise. Additionally, it's essential to consider the cost of support and maintenance, as some providers may charge additional fees for ongoing maintenance and updates.
In addition to technical support, it's also important to consider the ease of maintenance and updates. A POS system that requires frequent updates or is challenging to maintain could result in significant downtime for your restaurant. Look for a provider that offers regular updates and maintenance that can be easily performed by your staff or the provider's support team.
In summary, selecting a POS system with reliable technical support and easy maintenance can help ensure your restaurant operates smoothly and efficiently, without any significant interruptions to your business.
At OrderUp, we pride ourselves on having some of the best support out there. We believe that owners and operators should have a direct line to our support team, and can communicate via text or call. 
We believe that our personalized approach at support is truly what sets us apart from our competitors.
Maintenance:
Our system is cloud-based and can run on any internet connected device. This helps with updates and technical issues as we can access and diagnose problems virtually.
Choosing the right point of sale system is a critical decision for any restaurant owner.
While expensive POS systems may have been the norm in the past, newer and cheaper POS systems like OrderUp offer many features at a lower cost. It's essential to consider factors such as the type of operation, the features you need, and the level of support and maintenance provided by the POS system. Additionally, for restaurants with tight margins, investing in an expensive POS system may not be feasible, and choosing a low-cost POS system that offers a good balance of features and affordability can be a smart move.
By taking the time to consider your needs and budget, you can select a POS system that will help your restaurant thrive.
If you're at all interested in learning more about the OrderUp POS, let's jump on a quick demo so you can learn more about our system and how it can support your restaurant. 

All the best, 
The OrderUp Team