Digital Tab System for Restaurants
What if your diners could open a tab right from their phone?
In our latest product push, OrderUp is proud to announce the launch of digital tabs for dine-in restaurant service. This feature allows guests or tables to open up tabs, without presenting a physical card to staff. Furthermore, the guest or table is able to pay the tab on their own time. If the tab goes unpaid, restaurant's are able to charge the credit card given.
A digital tab refers to a diner being able to open a tab at a restaurant, without presenting a physical card to staff. Thus, why it's called a digital tab.
How do digital tabs work?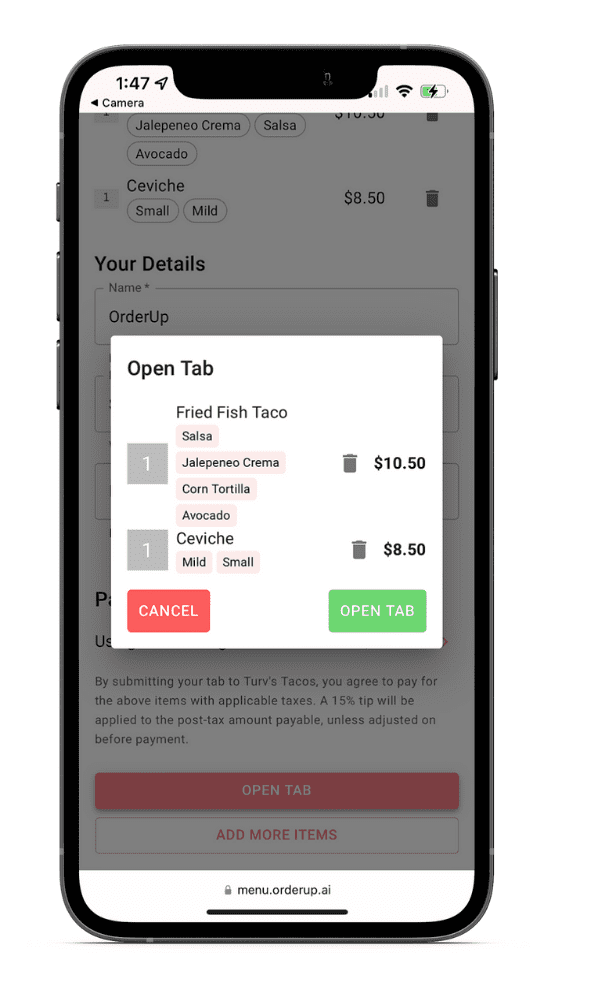 When a guest is seated at the table, they are instructed to scan a QR code to view the menu.
From the digital menu, guests are able to select items and drinks and open a tab.
Before any items are ordered or sent the bar or kitchen, diners a required to enter a valid credit card.
Once the credit card is verified, guests are able to continuously add food & drinks to their tab throughout the dining experience.
New items are sent directly to the specific bar or area of the kitchen to be prepared.
At the end of their meal, guests can easily split the tab, pay for their own items or one person can take it all!
The payment process is very simple, intuitive and takes under 10 seconds! Saving your staff time and flipping tables faster.
For more information around the "flow" of service and using the product, check out this post.
Why do digital tabs work?
Digital tabs at restaurants are the next logical progression in how restaurants accept and facilitate payments. With the COVID-19 Pandemic largely behind us, contactless payment consumer behaviour that was once used out of necessity, has stuck on and actually grown in popularity. 
Here are some stats: 
Over 70% of North American consumers have their credit card information saved on their mobile device or in a digital wallet.
77% of North American consumers view contactless as the safer and more efficient way to pay for goods.
70% of consumers buy something directly from their phone at least once week. 
These stats just continue to rise. In other words, the majority of consumers are both ready, available, and comfortable with paying through their phone… Why would a restaurant be any different?
Benefits of a digital tab
There are many benefits to restaurants that adopt digital tab technology alongside QR Code menu's & ordering. The benefits include:
No dine-n-dashes…Ever
Better ordering & payment experience for parties
Larger cheque size
Faster table turns
Say Goodbye to Dine-n-Dashers!
Stopping dine-n-dashers and ensuring restaurants receive 100% of payments on any given night.
Guests must submit a valid Credit Card before placing an order. This means that no matter what, restaurants are able to recover missed payments.
There's various reasons someone might dine-n-dash from poor service, lack of staff, lack of funds to engaging in scams or fraud.
Using the OrderUp digital tab system, you can rest assured that none of these reasons will ever impact your ability to collect a payment. 
Furthermore, serving staff will never be left on the hook for bad actors taking advantage of certain scenarios. We'll say that again, serving staff will never be left on the hook for unpaid bills or items.
Our payment infrastructure relies on some of the worlds best payment processors. This means that we are able to easily identify cases of fraud, or block scenarios where there's a lack of funds. 
The best part about all of this? We handle any issues with our payment processor, leaving you and your staff to focus on running a restaurant – not chasing down payments or investigating fraud. 
Better Experience for Parties
The feedback from parties using QR codes to Order & Pay has been outstanding. 
Depending on the size of the party, restaurants may need one-three servers just to take orders & punch them into a POS. 
When using OrderUp's QR code ordering & tab system – guests can order multiple times throughout the meal. This frees up your staff to provide great hospitality by answering questions, making suggestions and delivering an outstanding dining experience. 
Here is what one guest had to say:
Whether it's for a large or small party, guests tend to seriously enjoy the experience of ordering & paying from their phone. 
Restaurants that adopt a QR code ordering and payment system tend to see an increase in average spend of around 15%.
This is regardless of if the guests are in a small or large party. 
There is a lot of studies and literature behind this phenomenon but it really boils down to two key drivers: A change in consumer behaviour and recommended add-ons.
Changing Consumer Behaviour
Guests are used to buying things online using credit cards. To add to this, consumers spend more money when they are ordering & paying from their mobile device versus using cash. You can learn more about this phenomenon in the following blog post "Why Consumers Spend More from Their Mobile Device".
      2. Recommended Items & Strategic Add-Ons
Using add-ons or recommended pairings in a traditional dining setting can be do wonders to adding incremental revenue. When used in conjunction with a digital menu that is engineered and optimized for revenue, restaurants are able to encourage alcohol upgrades and costly add-ons. To learn more about engineering a digital menu and optimizing add-ons, check out this blog post "Engineering and Optimizing a Digital Menu".
Using these two drivers to your advantage results in guests simply spending more on their digital tab.
Like larger cheque sizes, QR code ordering & payment is also proven to reduce table turn times.
This is because guests are able to place orders in real time. They do not need to rely on a staff member to write down their order and punch it in to a POS. This saves a couple minutes, per table.
On the tail end of the dining experience, guests are able to pay their tab within seconds, Since you have already collected the payment information at the start of service (opening the digital tab) they are able to close it on their time.
Digital Tabs are the Future
Digital tabs for restaurants represent the future of dining. Not only can it help with operational flow and increase bottom line financials, but it also improves diners experience.
If you'd like to learn more, please reach out to us at [email protected].