How Big Sky Baked & Loaded Food Truck Leverages Mobile QR Code Payments to Limit Wait Times
About Big Sky Baked & Loaded Food Truck
Big Sky Baked & Loaded Food Truck, is a culinary sensation on wheels.
Led by Daniel Kosel, the dedicated owner and business development director, this mobile eatery is owned by Delicious Food Montana LLC, where Daniel serves as a managing partner.
Nestled in the vibrant downtown of Gardiner, Montana, just a stone's throw away from the iconic Yellowstone National Park, Big Sky Baked & Loaded Food Truck has become a culinary beacon in the area.
Located at the gateway to Yellowstone, this charming food truck has captured the hearts and appetites of locals and travellers alike.
Their specialty lies in crafting tantalizing baked potato dishes that take comfort food to new heights. With a focus on quality ingredients and imaginative flavour combinations, their menu is a delightful exploration of all things potato.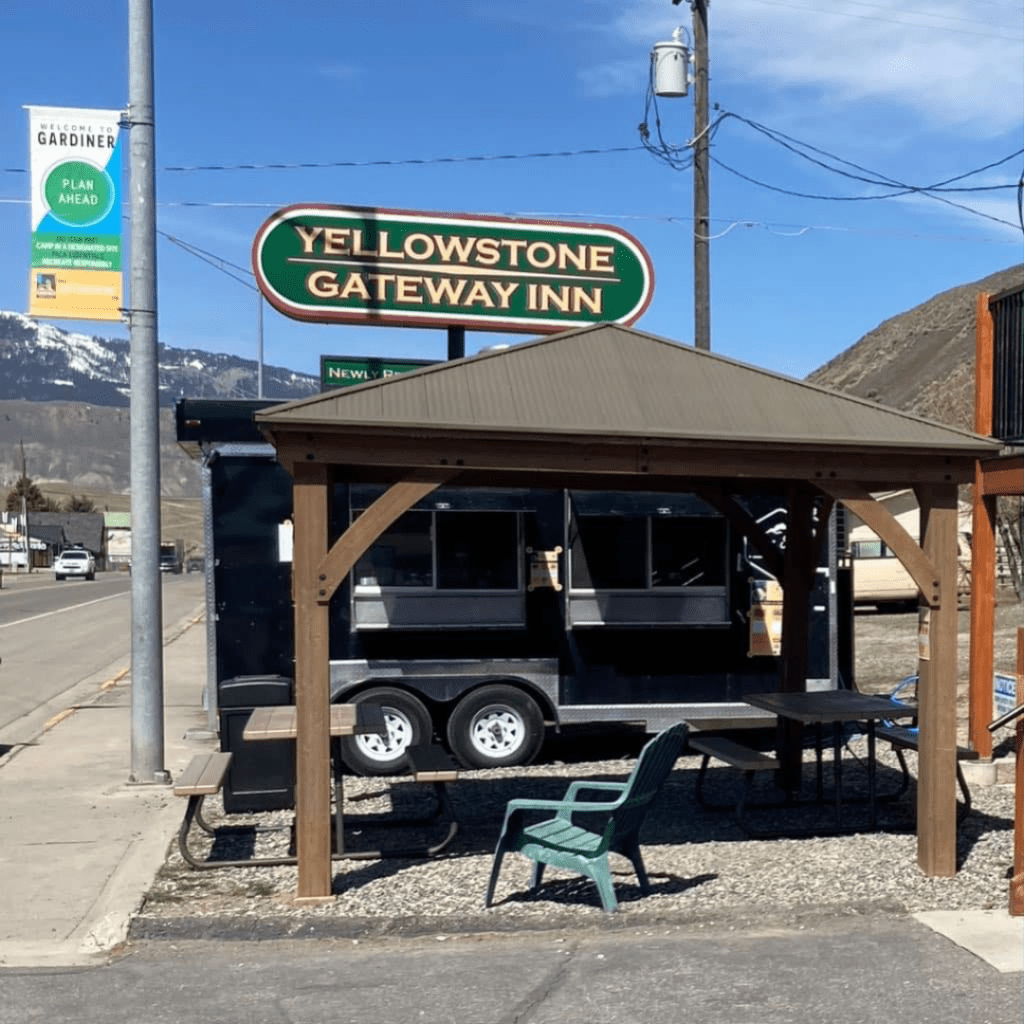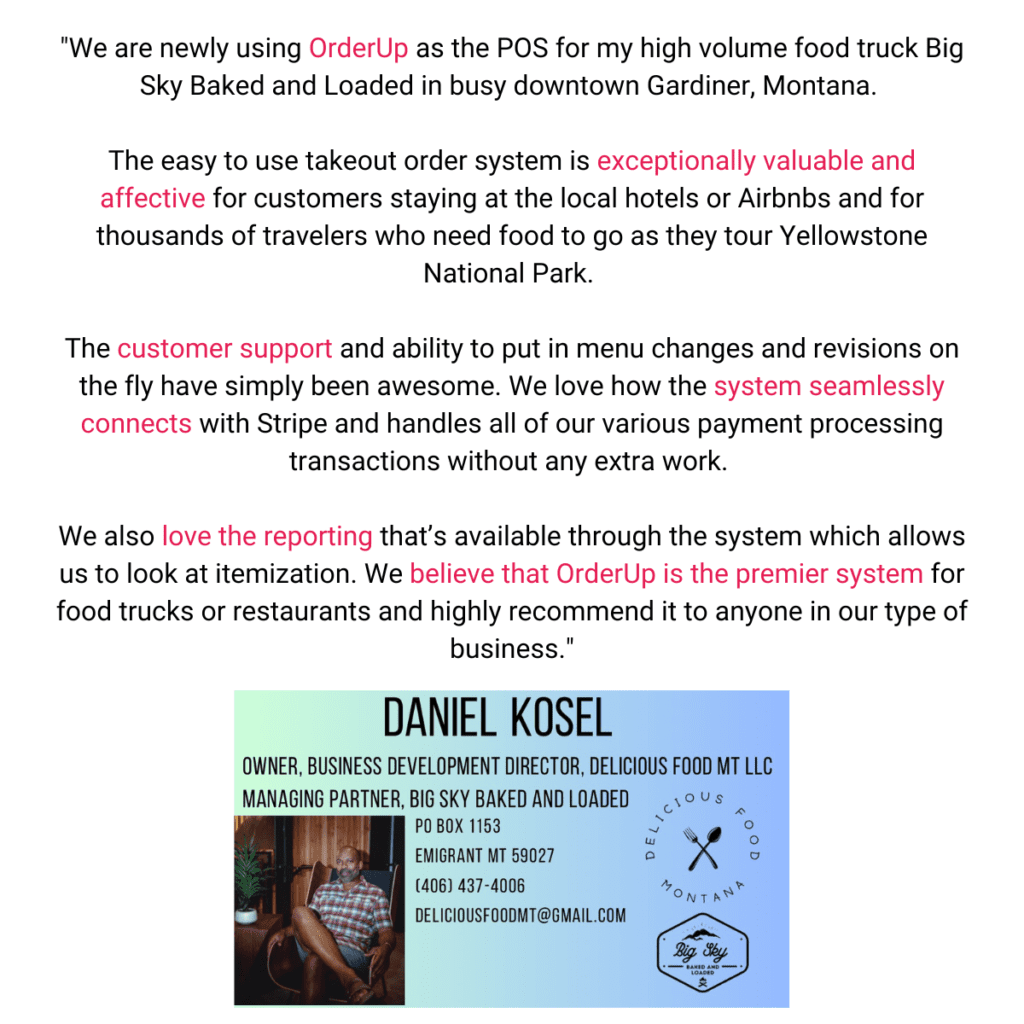 The Problem: Too Many Customers
Big Sky Baked & Loaded Food Truck finds itself facing a unique challenge, one that many businesses can only dream of: an overwhelming number of customers. Situated in the bustling downtown of Gardiner, Montana, the gateway to the renowned Yellowstone National Park, their prime location attracts a constant influx of locals and tourists alike.
Just last year, over 3.9 million people visited Yellowstone National Park, and Big Sky does anywhere from 150 to 350 transactions per day! That's a lot of potatoes and transactions for a small food truck. 
As you can imagine, this can cause long wait times for hungry park goers. This sparked their owner Daniel Kosel to look for a better, faster and more seamless way to take streamline operations, and take more orders, while limiting wait times.  
Located around several Airbnb's and hotels, Big Sky was also looking for a way to encourage takeout orders from guests staying in the area.
Furthermore, Big Sky is often experimenting with new menu items. They needed to find a solution to edit menus in real time, mark items out of stock and so on.
The Solution: OrderUp POS With QR Code Ordering & Payment
To help solve their line management and wait time issues, Big Sky reached out to OrderUp to implement our QR Code Order & Payment for takeout, a free feature with the OrderUp POS.
Here's how it works: 
1. Guests can access a digital menu via a QR Code, or menu link. The QR Code is located on a physical copy of their menu and situated outside of the food truck.
2. Guests browse the menu and place their orders, which are paid for before the order goes through.
3. Orders are sent directly to the food truck for preparation, and are also printed from a chit printer.
4. Customers receive an SMS Text Message with their order ETA.
5. Guests receive a text message when their order is ready to be picked up!
The Result:
Faster service
21% average staff tips
Better customer experience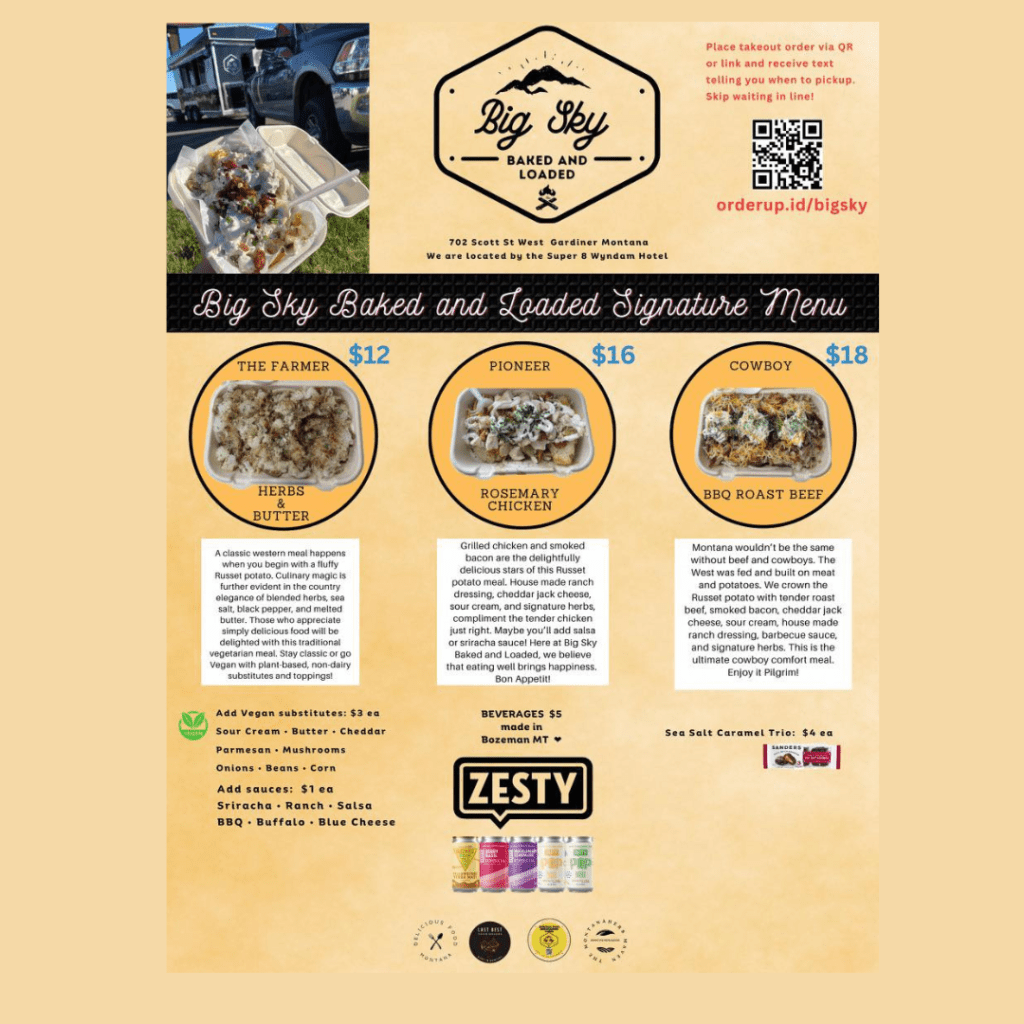 Whether it's waiting in line or waiting for food, it's not fun. Solve this pain point with QR code order & pay.
Fill out the form below for more information.