Product Updates – June 2022
Product & Platform Updates for June 2022
Note: If you are here from the July Newsletter, please click HERE for the July Updates and to learn more about the New Menu Release.
We're happy to announce that our payout cycle to partner merchants has been reduced to 3 days.
For existing partners, there is no action needed, the terms have been automatically updated in your Stripe Connect Account.
Digital Tab System (Dine-In Only)
Dine-In restaurants using OrderUp have always allowed guests to open a tab, but we've taken it one step further, enabling staff to close a guest tab and push through a payment to the card on file.
If a guest is happy with their service, they can now walk out the door when ready, allowing the restaurant to close their tab, with an applied auto gratuity (your "default tip" amount in your settings page). 
Here's how it works for a customer:
1. The customer starts by scanning your QR code. Once they select their items and enter their card number, they can choose to keep the tab open.

2. The customer receives an email and/or text confirmation of their order. At this point, their card is pre-authorized, and the order can print in your kitchen or appear on your kitchen display system.

3. If the customer still has their browser open or the confirmation message, they can select the link to add items to their order, or close and pay. They can also rescan the QR code to do the same.

4. When the customer feels they've ordered everything they'd like, they can complete their payment. As customers pay, they can enter a tip.

5. The customer receives a thank you email and/or text confirming their order was complete.

6. The customer's card is charged for the order total and any pending pre-authorizations will drop off.
Note: If your customer doesn't close and pay after their last order, you may close the tab, and trigger an auto-payment with the default tip and your customer will receive a confirmation email and/or text.
The main focus of these changes is to 100% eliminate dine and dash, and provide greater convenience to the guest. 
To see how this looks in action, check please click here.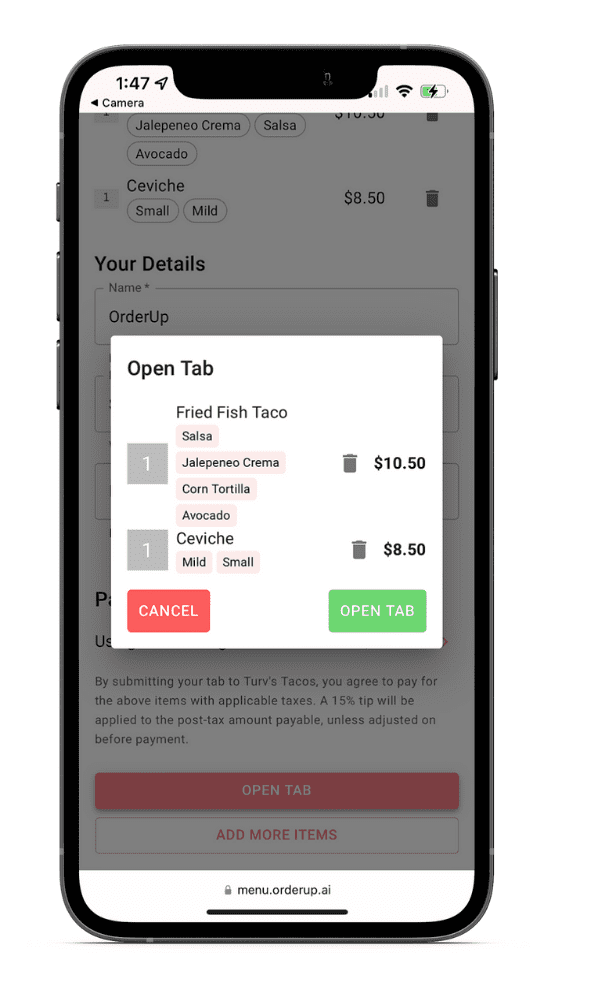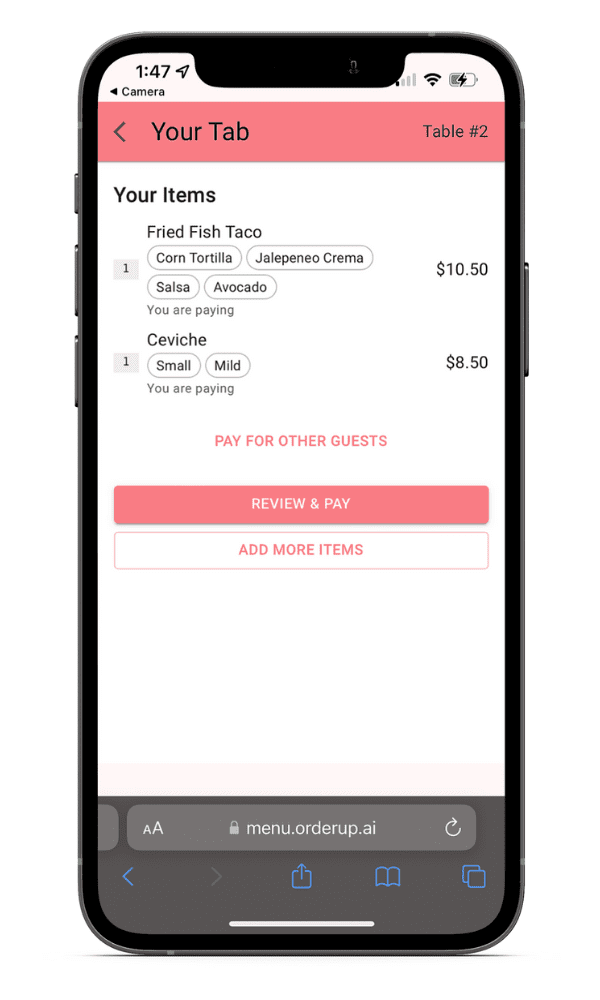 Our in application reporting is ready. Merchants can create reports from any time range within seconds. 
These reports are and can be itemized.
Reports can be exported as a CSV. file, emailed to stakeholders or printed from a connected printer.
For more information on reporting, please see the video below for a quick demonstration.
Improved Search Functionality
As part of ongoing product performance improvements, search-ability across the Order Management Interface (OMI) is more robust and much faster. 
Partners can now search by name, email, table number or transaction ID on the Transactions Page or the Order Management Page.
Transaction Page Enhancements
All orders, dine in or takeout will now appear in the transactions page after payment. 
From here, you can issue partial or full refunds, send receipts or print receipts.
This page is directly correlated to the improved reporting. Please see the video below.
We've fixed various bugs that have popped up. This includes:
Email Receipts Deliverability
Discrepancy in Menu availability times
Remove Items from order user interface
Speed and Search improvements on the Order Management Interface (OMI)
Feedback from owners, managers, operators and diners is extremely important and valuable to our product development. 
Are there any specific product features that would aid your restaurant or operations? 
If so, please let us know by sending an email to [email protected].