How Restaurant Diners Feel About QR Code Ordering
QR Code Ordering & Payments have grown in popularity, but do your customers actually want it?
QR codes gained importance in the fight against COVID-19, but with the virus in the past for the most part, should restaurants still be using them? And more importantly, do restaurant customers want them?
In this post, we'll take a look at recent studies, data, reports as well as customer reviews, owner testimonials and social media buzz.
 From there, you can decide if a QR Code ordering & payment system is right for your restaurant.
What is QR Code Ordering & Payment for Restaurants?
Guests can place food and drink orders directly from their phone, and have the items brought straight to their table. They can continue to order throughout their dining experience and then pay securely straight from their phone when they're ready to settle up. 
This type of service already has a sleuth of proven benefits from improving service, to reducing labour costs by up to 150%. Furthermore, QR code payments are expected grow by 240% by 2025, and 63% of operators plan on investing in this type of technology in 2023.
How does QR Code Ordering & Payment Work?
Well, guests are able to scan a QR code which brings them to a mobile friendly digital menu. From there, they are able to browse the menu, and order multiple items. The orders are sent directly to an Order Management Interface Tablet (OMI) and printed out in the kitchen or at the bar. The guest can order multiple times throughout the meal, and pay on their own time, directly from their phone.
Here is a snippet of a Yelp Review from a customer at one of our partner restaurants, Superfresh in Toronto. Michelle does a great job of explaining the process from a customers perspective.
Check out the full review & learn a little bit more about Superfresh below: 
Do Restaurant Customers Really Want to Order From a QR Code?
As contactless dining technology becomes more and more popular in North America, we're starting to see more and more research on the topic become available. 
Millennials & Gen-Z love QR Code ordering & payments
While this doesn't come as a huge surprise, Millenials and Gen-Z diners tend to prefer QR code technology when visiting their favourite restaurants.
A study by Datasential found that 58% of consumers would like the option of using a QR code to pay at a restaurant. Among consumers who have used QR codes to order and pay, 70% of them said that they had a positive experience.
The highest positive responses in this research came from the Millennial demographic at 78% reporting a positive experience. 
The 2022 Future Restaurant Trend Report discovered that 43% of millennials and Gen-Z diners prefer contactless payment options when dining-out.
Furthermore, a study by Tacit found that 53% of Millenials want to use mobile devices to augment their dining experience. Restaurants that fail to attract Millennials and Gen-Zers by not implementing a digital driven strategy may see these generations retention rates drop by 43% or more. 
Lastly, a study by Mastercard revealed that 82% of consumers view contactless as the cleaner way to pay, and contactless payments are up to 10 times faster than other in-person methods. This enables customers to get in and out of restaurants faster, subsequently, turning tables faster. 
When we're talking about millenialls & Gen-Z, it's important to note that this is the largest demographic in the world, they have the most purchasing power, are more committed to supporting small businesses than other generations, and not only go out to eat more, but they also spend more when they do. 
Studies, reports and surveys are a great tool to make data driven decisions. With that said, restauranteurs should also examine other sources such as customer reviews, social media and testimonials when considering adopting new technology. 
Customer Feedback on QR Code Ordering & Payments
Many would agree, that direct customer feedback is more valuable than any study. Below are real reviews from owners & diners who have implemented or used a QR code ordering & payment system in restaurants.
Reviews and direct feedback are extremely important to the modern diner, and should be top-of-mind for restaurants.
For example:
Using a contactless QR code ordering system frees up your staff to focus on providing great service instead of running back and forth from a POS or waiting for payment terminals. 


Customer Video Testimonial
And that's just a handful of the great reviews on the popular sites, but what about on social media where it's harder to measure? Millenials and Gen-Z are 99% more likely to rely on social media and reviews to make a decision than other generations.
Why it's important
Social media, influencers and content creators play a huge roll in, well, influencing the masses at an incredible scale. Take in these stats:
92% of consumers trust an influencer more than an advertisement
33% of consumers say they trust influencers more than their own family for recommendations
A peer reviewed study found that social media influencers were positively correlated to a consumers trust in a mobile app. This was demonstrated with downloads, usage and ratings.
So what does this mean?
Social media is great place to gauge interest in a certain product or service. If content creators and influencers like and trust a product, there's a good chance their followers will too.
In the case of QR code ordering and payments for restaurants, we're constantly scanning social media for feedback. So far, it's been very positive.
By providing a unique & new experience such as QR code ordering and payment, you're inviting local influencers and content creators to try out your restaurant and then broadcast their experience to thousands of potential customers online.
Take the example below: This local Toronto food review page (mixinthe6ix) has over 37,000 followers on TikTok, the 30 second video has been liked 25,000 times, shared over 1,500 times and has hundreds of comments.
One of the first things the creator mentions is:
"I like how simple it was to place an order, it's just a QR code and it [food and drinks] comes directly to you"
Another creator, anniethaonhi shares a similar sentiment with her experience:
"I love how it's super easy to make your order, you can order from all the restaurants, all at once, through your phone"
And in the comments, followers and creators share their thoughts about the ordering system and the restaurant: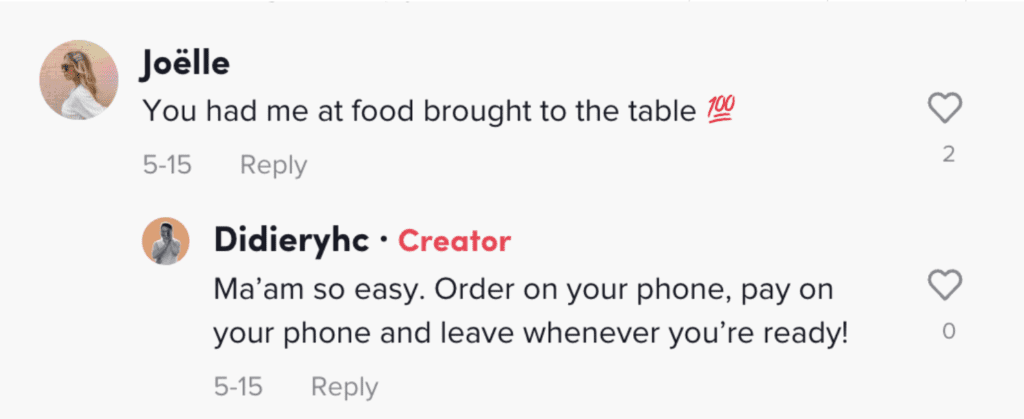 Like the old adage (no pun intended) "Word of mouth is the best type of advertising" – Social media platforms such as TikTok and Facebook have taken this to a whole new level. Word of mouth is now attainable with incredible scale. 
When you add influencers into the mix, the results can be quite jarring. It's no secret that social media has various impacts on consumer behaviour, but it's almost unnerveing the level of trust and "influence" some individuals have over large audiences. 
From what we've seen, the feedback on social media has been extremely positive. 
Customers Enjoy Digital QR Code Menus
Digital menus or QR code menus play an integral role in QR code ordering & payments systems. Recent research on restaurant consumer behaviour finds that the majority of consumers not only enjoy using a digital menu, but 78% of customers say that there are major benefits to using a digital menu.
Some of the benefits of a QR code digital menu include:
A higher level of order autonomy

An aspect of control and personalization of their meal

Descriptions & images to help with decision making
A recent
 survey
 found that "
the majority of consumers said they would be likely to access a menu on their phone via QR code or through a mobile option, and restaurants are adapting new technology to meet the need…over 74% of quick serve and full service restaurant plan to adopt digital menus and order and pay solutions to address the need.
"
Another interesting finding in the report is that modern diners are more conscious of the hurdles that restaurants face today whether it's pricing volatility due to macro-economic trends, inflation or supply chains. 
77% of customers say that they would completely understand if their favourite local restaurant raised prices to reflect market conditions and supply chain shortcomings. 
One of the benefits of going digital with your menu is the ability to update prices in real time to reflect input costs and market prices. 
For example, here is what our partners at B.D Riley's in Austin Texas said about using a QR code digital menu:
How do older generations feel about Qr Code Ordering?
Consider Baby Boomers, aged 56 to 75, born between 1946 and 1965,  and Generation X, people aged 41 to 55, born between 1966 and 1980.
What we know about Boomers and Gen X
On study found that a surprising 56% of boomers who have used QR codes say they like using them to bring up menus at restaurants.
We know that 78% of millennials and 80% of Gen Z expect to continue using contactless technology such as order and payments, and will outpace older generations in doing so. 
When you navigate to places to like Twitter, you may find more polarizing opinions towards QR codes and restaurant technology. One user says "sorry, i'm not scanning a QR code for your menu." 
Older demographics reference confusion and lack of tech-know how making the experience difficult to navigate. Which is completely understandable.
With that said, we can all agree going to Blockbuster was fun…But Netflix is just more efficient. 
Key Take Aways from QR Code Ordering & Payments for Restaurants
At the end of the day, restaurants will have to decide for themselves is QR codes are here to stay, or just a silly technology of the past. 
What you should consider: 
The Good:
Millenials and Gen-Z Enjoy using QR codes, whether that be the menu or a complete ordering system
The majority of reviews online are positive when it comes to QR code ordering & payments
They also get a lot of love on social media platforms such as Tik Tok and Instagram
There are proven benefits to QR code ordering systems impacting levels of service and bottom line finiancials
The Unsure 
The verdict is still out if older generations such as Baby Boomer and Gen-X are comfortable with this type of technology
It's different; it may even be uncomfortable to staff and managers who are used to traditional service and POS's
It might not be for everyone. 
So from there, it's up to restaurants to decide if implementing this type of technology is beneficial or not for their customers, and consider if their customers are the demographic that we know enjoy QR code ordering and payments at restaurants.the most, or the least. 
One thing is for sure – it doesn't hurt to have QR code ordering and payment as an option for guests that feel comfortable using the technology.