What We Learned at the National Restaurant Association "State of the Restaurant Industry" Conference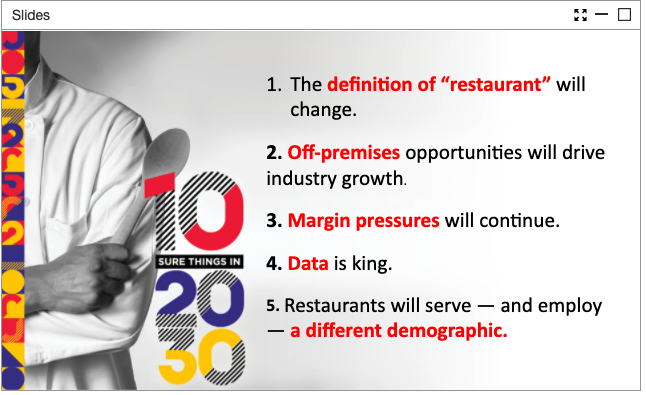 What we learned from the National Restaurant Association's "State of the Restaurant Industry" Webinar.
We attended the National Restaurant Association's "State of the Restaurant Industry Webinar" led by Hudson Riehle, Senior Vice President of Research & Knowledge.
To say the least, it was an extremely informative session, and provided us with some key data and insights on the state of the restaurant industry. We broke it down it down into a quick, digestible post highlighting some of our key takeaways. Click on the section of the list if you want to skip a certain area.
All restaurant stats and data is provided in the webinar.
To get the full report, contact the National Restaurant Association – (https://restaurant.org/)
Driven by the pandemic, on-premise dining restaurants are beginning to allocate more resources to technology. Already, 95% of restaurant operators say that technology has improved their day-to-day efficiency – but now we're seeing an increase in demand from consumers for that technology as well. 
Assessing Consumers & Restaurant Technology
We found it interesting that 37% of consumers believe that there is not enough technology being used in restaurants. Consumers are actually seeking more technology to assist their dining experience. When asked "in which areas would consumers like to see restaurants incorporate more technology":
52% responded to "make order and payment easier"
51% responded to "improve customer service"
49% responded to "offer more convenient takeout and delivery options"
46% responded to "make the overall restaurant experience faster"
44% responded to "provide more detailed information about food such as nutrition, allergen information, and sourcing"
29% responded to "provide more entertainment options"
At OrderUp, we support all of the above. Our on-premise Order & Pay technology is completely free for restaurants. We truly believe that a contactless, on-premise solution can help improve the consumer's dining experience while supporting restaurant growth. Learn more here. 
Growing Popularity of Mobile Payments
Gen-Z and Millenials are leading the charge for demand to use mobile payments for on-premise dining. Here are the statistics for consumers who paid for food or beverages at a restaurant, quick-serve restaurant, or coffee shop using a mobile payment platform in the past year: 
18% of all adults 
30% of Gen-Z adults (18-24)
28% of Millennials (25-40)
16% of Gen-X (41-56)
6% of Baby Boomers (57-75)
"The idea of contactless payment has really taken a hold and will be a key component of driving sales post pandemic" 

– Hudson Riehle, SVP of Research & Knowledge
Data is King – The Intelligent Restaurant
Riehle and The National Restaurant Association also point out some of the possible future implications for when technology and restaurants work together. 
When restaurants turn to tech-based solutions, they gain access to data like they've never had before. 
This brings up the idea of "The Intelligent Restaurant" 
The intelligent restaurant adjusts it's prices automatically – based on AI and big-data decision making. Think about a restaurant whose prices change autonomously or update based on the time of day or even the weather outside.
It's always a good idea to be thinking of the future, and preparing for what could become a reality.
2. Economic Outlook For Restaurants – Consumer Confidence
The outlook on the American economy remains quite depressed, but the demand for on-premise dining and consumer sentiment towards the restaurant industry remains strong. 
Economic Outlook & Factors 
2020 has seen the strongest economic hit since 1946. We've seen gross GDP drop by 3.5% and employment drop by 5.8%. 
77% of American's believe the economy is weak. This is almost as high as the 2008 recession. 
The regions with the highest confidence in the economy are in the southeast-central area of the country including states such as Alabama, Kentucky, Tennessee, and Mississippi. The Pacific region including California and Washington has the least confidence. 
We can suspect to see an employment recovery of 1.8% in 2021, but that's still worse than pre-pandemic employment rates. The outlook on GDP is forecasted at 4.8%, which would bring the United States to Q4 2019 levels. 
In short – confidence in the economy is not ideal. It's unlikely we reach pre-pandemic employment or GDP rates, but there is a positive outlook for both as vaccines are deployed across the country. 
Demand For on Premise-Dining and Disposable Income
It's not all bad for the restaurant industry. There is a pent-up demand for on-premise dining. 67% of Americans say that they are not eating on-premises at restaurants as much as they'd like. This number is up 23% from January 2020. 
Many consumers are still worried about the pandemic, and it's possible second, third (please not fourth) waves. Ensuring your restaurant is following safety protocols and offering contactless options for ordering and payment will only help to increase the positive sentiment and confidence towards restaurants and dining-out. 
Due to government stimulus packages, consumers have more savings and disposable income than they previously did. This is especially challenging for restaurants in areas where government policies are restricting or regulating on-premise-dining. It also poses the question to restaurants about spending on marketing and or technology to drive traffic and sales. 
Essentially, consumers have the money, and want to spend it at restaurants, but are not able to. As a result, there is also a shift in how consumers spend their disposable income on food. 
In 2019, about 51% of spending was at restaurants. In Q4 of 2020, this number had dropped to only 45% is at restaurants. 
Operator Outlook
The restaurant performance index shows that recovery from covid isn't happening as quickly as expected to end 2020.
The initial forecast for Restaurant industry sales in the U.S was $899 billion. The actual number was $659 billion. The National Restaurant Association expects 2021 sales to grow 11% bringing the total $731 billion in 2021. 
There have been 459,000 lost jobs in the past 3 months as off-premise dining rose to 90%. This brings the total job loss to over 2 million in the United States. 
With no surprise, 69% of restaurant operators said that Coronavirus was the top challenge facing their business in December. Following this was sales volume (12%), recruiting employees (7%), Government (4%), and food costs (4%). 
Coronavirus is out of everyone's control. Offering digital restaurant solutions can increase sales volume and help reduce the reliance (and costs associated with it) for recruiting new employees. We go cover this in more detail in our post 5 Reasons Restaurants are Switching to QR Code Menus.
3. Menu & Pricing Strategy Changes
There are a few factors that are playing into restaurants' decision to streamline their menu and pricing strategies. Menu price inflation is at its highest rate since 2007 at 3.4%. Of course, pandemic plays into this as restaurants up prices to keep falling margins. 
Another strategy has been to streamline menus by removing unpopular items, and focusing on fewer dishes. In the context of input prices, both wholesale and commodity groups and markets are also driving this decision. Wholesale food prices are up by 1.4%, and commodities such as beef have also risen. Fine-dining restaurants are most likely to streamline their menus (63%) while casual dining is second at 53%. 
Riehle notes that digitization of menus can help with this effort, making it easier to change, add or remove items. As the intersections of technology and hospitality become more close-knit, this presents a huge opportunity for restaurants to turn their menus into revenue generators. For example, suggested add-ons in eCommerce account for up to 31% of total revenue! Imagine what's possible when dine-in guests are presented with recommended drink pairings or specific (and low cost) add-ons to just about everything! 
The way that operators strategically consider menus, the psychology of menu building and mobile ordering is changing. Mobile ordering and menus present an opportunity to gather the data needed to make data-driven decisions when it comes to purchasing, sourcing, predicting demand and limiting waste. 
Final Thoughts and Considerations
Overall, we would highly recommend attending any event hosted by the National Restaurant Association. It was truly jam-packed with tons of great insights for anyone in the restaurant, hospitality or food service industries. 
After these unprecedented times, it appears that technology and digitization will be key drivers of both efficiency and profitability. The data that comes along with taking a tech-first approach will prove to be game-changers for those able to harness their data, and make real-time decisions.
Mobile Order-and-Pay will also continue to drive growth, especially in Gen-Z and Millenial Consumers. 
Consumer sentiment is extremely positive towards restaurant and food-services, despite having a negative outlook on the economy as a whole.
Menu sizes and prices are increasing to 2007 levels, due to increasing input costs, and lower sales volume. Using technology and streamlining menus may be a key factor in making sure that pricing doesn't get out of hand.  
We feel for every restaurant that has been forced to shut down operations, and all of the loyal workers who have lost their job due to this relentless pandemic. We are hoping for a swift recovery in 2021. 
OrderUp offers completely free, digital menus that are equipped with Order & Pay. These are some of the key aspects that consumers hope to see restaurants adopt in 2021. If you'd like to learn about how OrderUp can help your restaurant with technology, please don't hesitate to contact us, or visit our website for more information.