Product Updates – March 2021
Product updates and new features for our Partners in contactless dining. What we've been working on behind the scenes.
We can't believe that it's already April. Time flies! In this seemingly short month, we've made a handful of updates to help our restaurant partners operate more efficiently. 
If there are any updates or features you'd like to see as a restaurant operator – please reach out to us and let us know. Your success is our #1 priority. We know it sounds cheesy, but it's true. Here's what we've been working on in the month of March:
Marketing Opt-In + Email Capture
Partners now have the ability to capture guests' email for marketing and promotional communications! This is an optional feature, and guests must opt-in themselves through a quick form after scanning the QR code. 
Data-privacy continues to be a hot topic of discussion between big tech, consumers and governments. As more bills and laws are passed to protect consumers data, collecting first party data like this will be more important than ever for effective marketing communications. 
Here's an example of what a prompt would look like after a guest scans your menu. If they click "Yes" the next screen is an email collection field. Don't worry, it's customizable to your brand colours and logos as well. 

Let us know if you'd like to learn more about the marketing opt-in, or if you'd like to activate it on your existing OrderUp menu. 
Email: [email protected] or reach out to your account representative. 
Menu & Category Description Headers
This simple update allows you to better describe a specific menu or category of items. A header is traditionally used to describe the contents of what it's containing, but this space and what you put in it is completely up to you! Describe items, or simply leave your guests a message of appreciation. 
You can add, change or edit these in your Menu Builder in the text box on any category or menu update page. Give it a try! 
[Updated Menu Builder Tutorial Video: Watch Now]
Here's an example: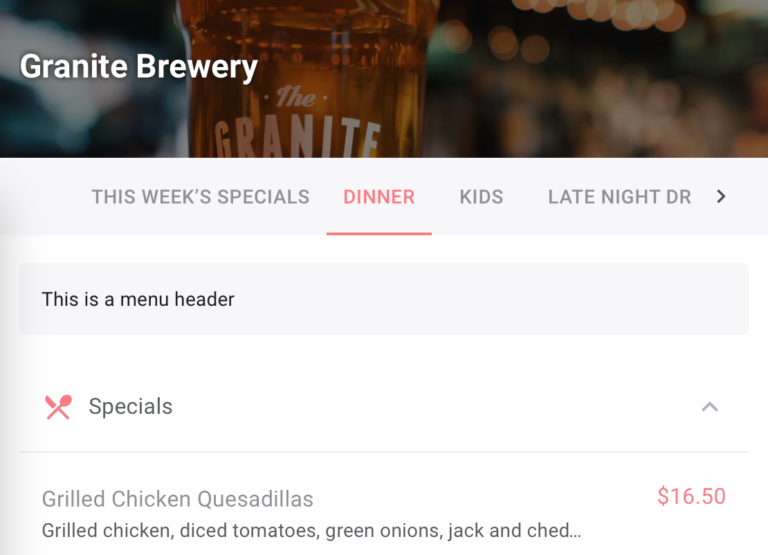 An example of where the menu header would appear. This is for the "Dinner" menu, but each menu can have it's own.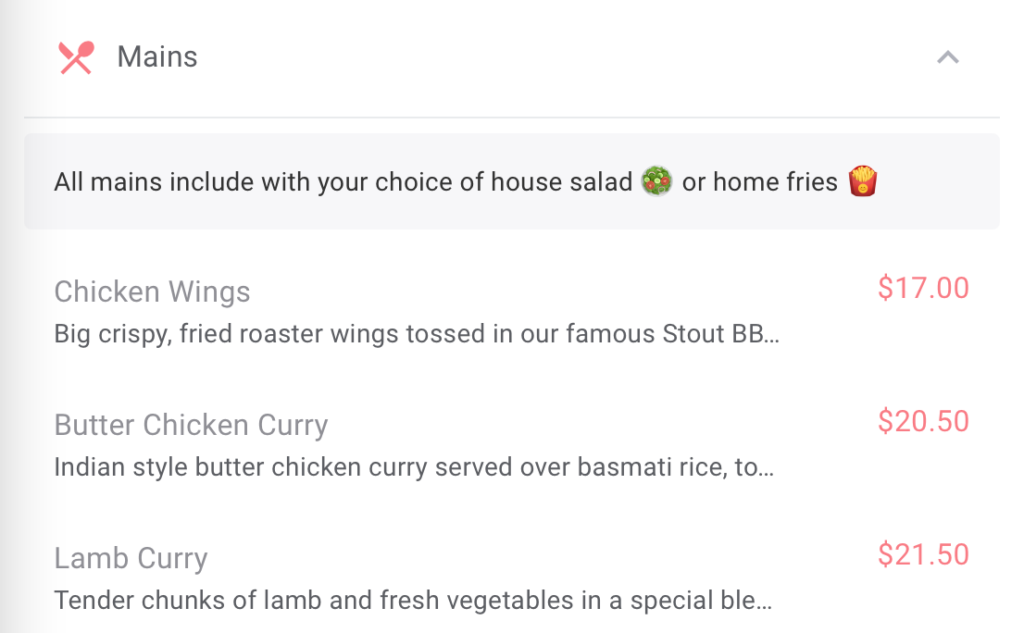 An example of what a menu header looks like. Add emojis for some extra flare!
Image Uploader now Available in the Menu Builder
Now its easier than ever to upload images of food & drink to your OrderUp Menu. Adding visuals can go a long way in guiding a guests decision, and visually whetting their appetite. Now all those beautiful pictures on your instagram can be easily uploaded to match the menu item. 
This can be accessed on any individual item page within the menu builder.
Ability to Change "Table ID"
When a guest first opens up an OrderUp menu, with Order & Pay enabled, they'll be required to enter their name and "Table ID". Initially, this was designed to reflect the restaurant's table number.
Now, you can choose from a number of values to better describe your service. For example, this can now appear as "Room #", perfect for room service at a hotel or a bed and breakfast. Hotels that offer room service can easily use OrderUp to handle room service orders by leaving a QR code in the guests room, and have orders placed and paid for right from their phone. 
To take advantage of this feature, please get in contact with us! 
Example of traditional, OrderUp "Table ID". This is what your guest sees after they scan the QR Code. This is only for partners using Order & Pay functionality.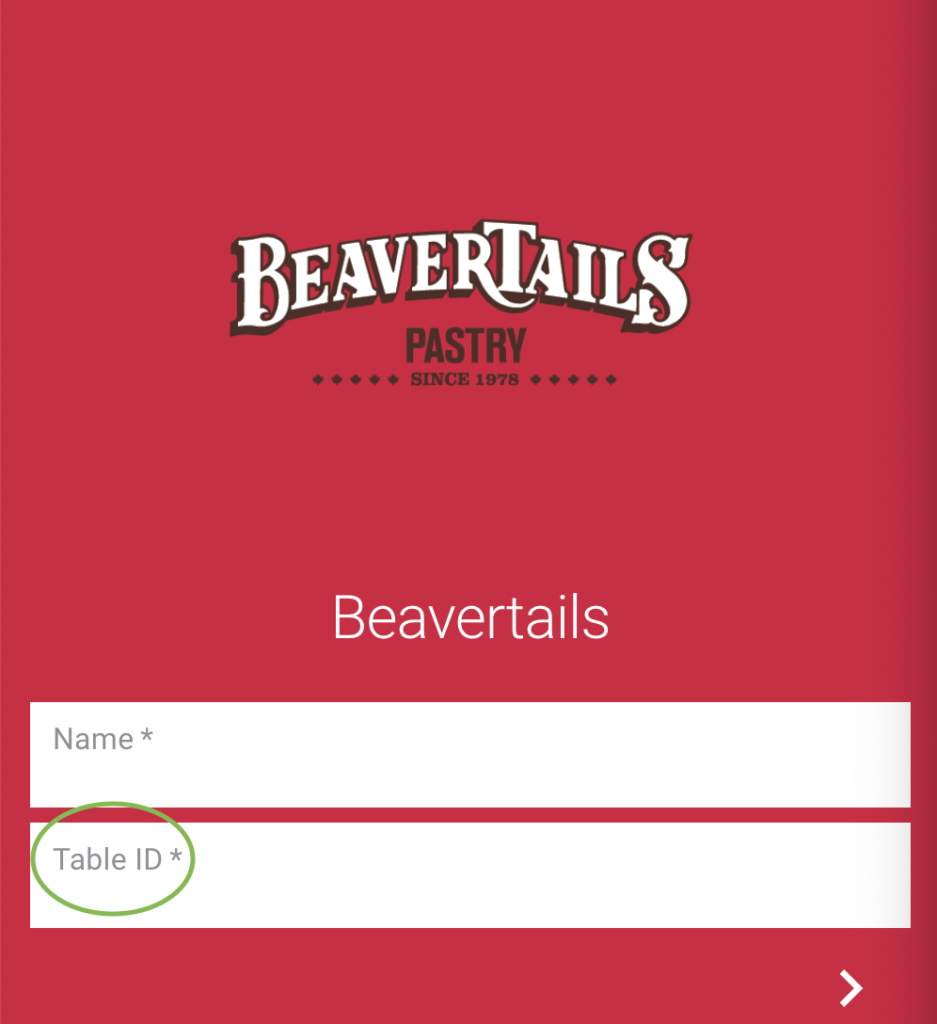 Example of "Room Number" instead of Table ID for the Beverly Hotel. Guests would input their room number, instead of table number letting the restaurant know it's room service.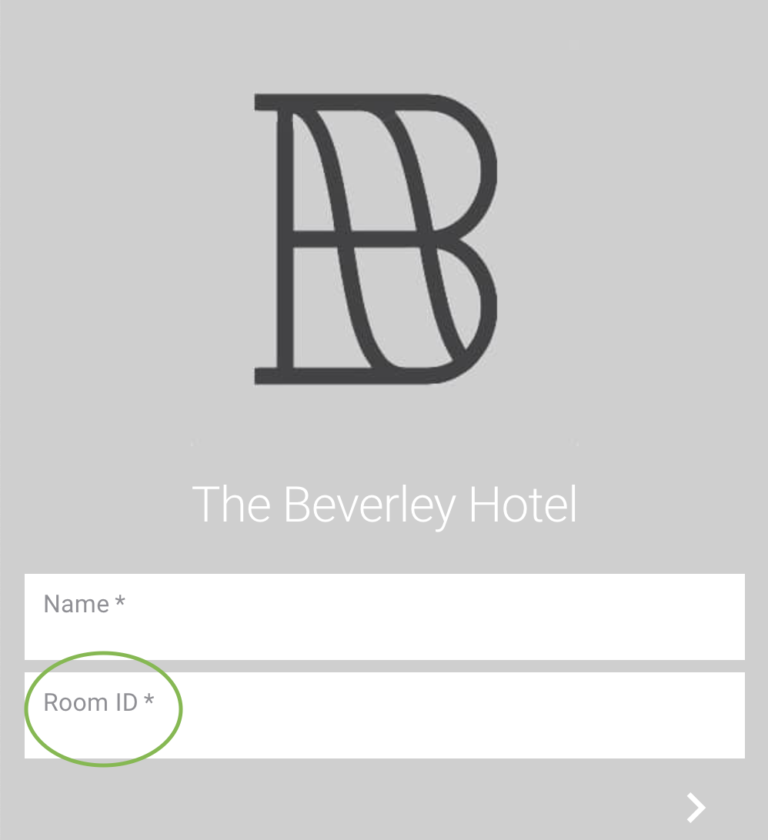 Interested in learning more? Let us know! 
"Create" Button Fix in Menu Builder
Previously, the "create" button was located at the bottom of the menu builder for any given item, category or menu. We've made a change so that the "Create" button will be at the bottom of your screen, not the bottom of the menu. The goal is to save time spent scrolling to the bottom to create a new item. 
Here's an example of how it would appear on the category page of the menu builder.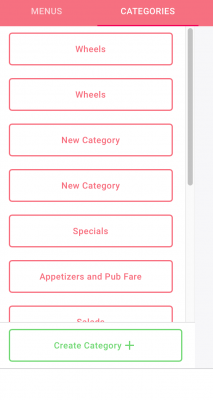 Links Added to Items in the Menu Builder
This small fix allows you to quickly navigate to an Item edit page from anywhere in the menu builder. Adding clickable links to all these items makes navigating and updating your menu just that much easier. 
This is just about it for March! 
Please feel free to reach out to [email protected] with any issues or suggestions. See you next month! 
Cheers.