5 Consumer Stats Every Restaurant Owner Should Know in 2021
5 must-know consumer insights for restaurant owners in 2021.
There's no question the pandemic has forced organizations across industries to adapt, adjust and turn to digital-first approach. It has accelerated the rate at which businesses and consumers use technology to interact with each other. McKinsey does a great job illustrating this in the image below.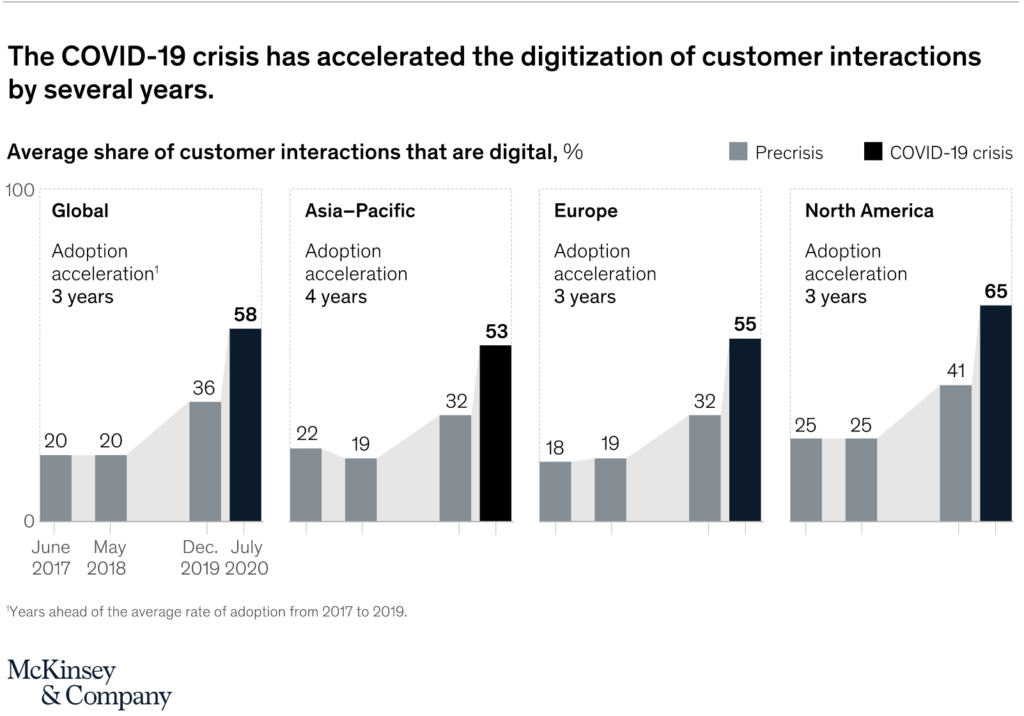 As you can see, adoption of digitized customer interactions have grown significantly over the past year. Whether it's ordering food for curb-side pickup, or ordering household items off of Amazon instead of the local shop – the theme is digital. But what does this mean for the restaurant industry? 
We've broken down 5 key stats (and opportunities) that every restaurateur should be aware of in 2021:
1. 52% of American's want restaurants to use technology to make order and payment easier.
This is no surprise as we've all been in a painful situation where it's taking too much time to either place your order, or pay for your meal. This issue often isn't entirely the restaurant or servers fault. They could be understaffed. A payment terminal could be down. There's a million reasons why this could happen. The downside is, usually the guest's don't know the reasoning, and quite frankly they might not care.
Finding a solution to this "bottleneck" issue poses a huge opportunity for restaurants to provide a better guest experience, while increasing table turnover.
One solution is to allow guests to order and pay from their mobile device. This can save tons of time for your FOH staff. 
It's also important to note that the majority of these respondents were either Millenialls or Gen-Z. This is a trend we keep seeing pop-up in research; this demographics aptitude and desire to use their mobile device as a payment tool. See the chart below showing the popularity of mobile payments amongst Millennials and Gen-Z.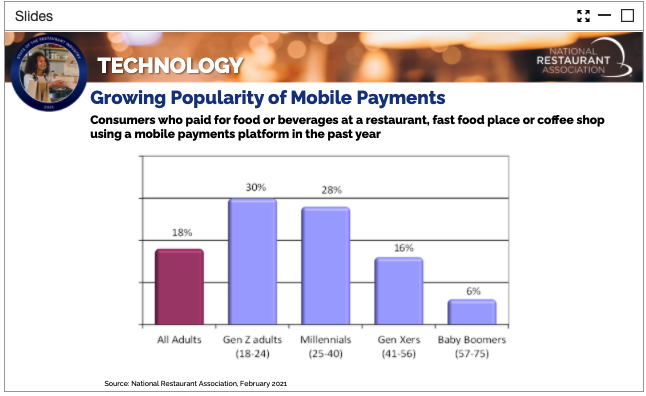 2. 53% of Millennials want to use mobile devices to augment their experiences.
Knowing that millennials and Gen-Z are the trailblazers when it comes to mobile payments, it's no surprise that 53% of millennials surveyed by Tacit said that they want to use their mobile device to augment their dining experience.
Disproportionately, these demographics also rely on their mobile device to look at reviews, check out social media and menus.
If you're a restaurant owner, ask yourself: How can I augment my restaurant's dining experience from my guests mobile device?
Here are some of our tips on how that experience can be improved:
Make sure your menu is mobile friendly!

You may already have a QR code menu, but is it mobile friendly? Does it support an augmented experience? This demographic is mobile-first. While your menu may look beautiful on paper, it doesn't do any good when it's not formatted properly for the newest smartphone.

Ensure your menu & mobile presence is visually appealing.

Millennials and Gen-Z take everything into consideration when it comes to choosing where and what to eat. In fact, this demographic is 99% more likely to rely on social media when choosing a restaurant. The takeaway is that these generations rely on visuals to make decisions. So is your Instagram up-to-date with good visuals? And does your mobile menu have similar visuals?

Is your menu interactive?
Does your menu give guests a little more control over their meal and experience? Learning more about each item, adding dietary restrictions and so on? Not only does this improve the guests experience, but is also an opportunity to suggest add-ons and drive up average bill size.
These are all easy steps your restaurant can take to augment your customer experience.
If you want to learn more about how OrderUp can help you capitalize on these opportunities, let us know.
3. Restaurants that fail to attract Millenials and Gen-Z may see these generations retention rates decline by 43% or more.
Building on the previous theme of millennials and Gen-Z – this is a very polarizing stat. Maybe your restaurant isn't focused on Millennials and Gen-Z right now, and that's fine. But it's important to understand that these are your future customers. 
Together, their spending power is about $350bn. $200bn for millennials and $150bn for Gen-Z. Furthermore, Gen-Z accounts for about 40% of current global consumers. They're not just kids anymore – they spend and support economies just like Gen-X and Baby Boomers. 
While you may not be positioned to serve this demographic, it doesn't mean you should rule them out as potential customers. Your current demographic may not like mobile menus or contactless ordering, but what about in 5-10 years?
4. 77% of consumers will prefer to use contactless order & pay when the pandemic is over.
With the goal of stopping the spread – It's no surprise that consumers are leaning towards contactless options. But combine that with about a third of consumers eating out once a week, and 60% eating out at least twice a month. Moreover, mobile payments are on the rise… exponentially. Mobile payment volume is expected to hit $275 billion by 2021, amounting to a 62% annual growth rate.
There's no question that contactless payments are going to take-over. This poses the question: is your restaurant positioned to reap the rewards?
5.  82% of consumers view contactless as the cleaner way to pay, and contactless payments are up to 10 times faster than other in-person payment methods, enabling customers to get in and out faster.
In a study by Mastercard, an overwhelming majority of respondents view contactless as the cleaner, more efficient, convenient way to pay. This comes as no surprise, as the payment process is often a time-consuming process for on-premise dining.
This is supported by Research from the National Restaurant Association where 51% of respondents want restaurants to use technology to make the overall dining experience faster. This is a win-win situation for restaurants. Your guests leave happy because they didn't have to wait to pay a bill, and you get to turn the table faster and reduce wait times.
To recap, consumer behaviours, especially in millennial and Gen-Z demographics have changed dramatically. The pandemic has accelerated the adaptation to technology, and built a stronger digital connection between business and consumer. Consumers are now demanding technology be used more in their day-to-day interactions with businesses.
There is a massive opportunity for restaurants to stay ahead of the curve and be on the front-end of innovation and technology. Whether it's with OrderUp or another provider – don't regret not taking action to position yourself for success in the new normal.