Digital Menu Ordering for Restaurants
Digital Menu Ordering for Restaurants: What is it?
What is Digital Menu Ordering?
Digital menu ordering is when diners at a restaurant can order directly from a digital menu on their smartphone or mobile device. 
This is not to be confused with a digital menu board displaying items or a self-serve kiosk. In this post, we'll be discussing digital menu ordering from a mobile device.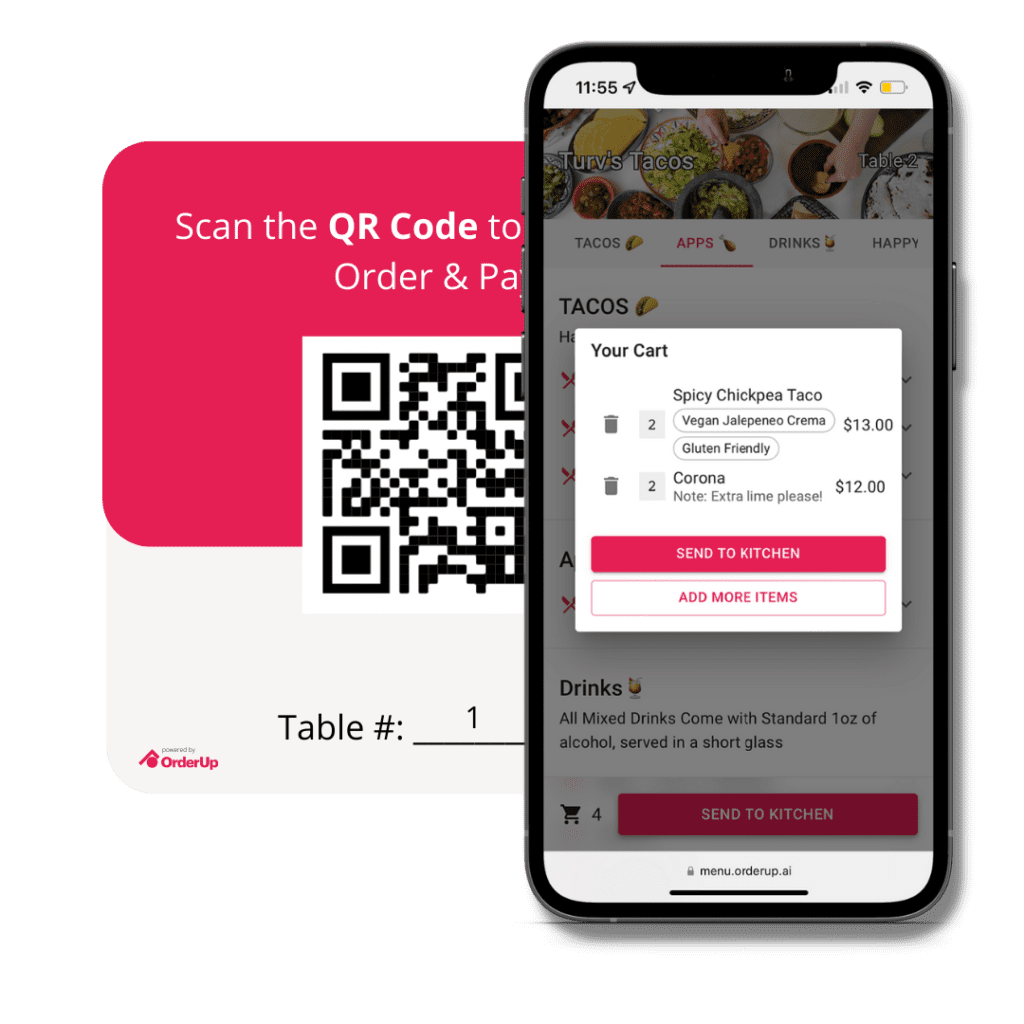 How do Customers Order from A Digital Menu?
Restaurant customers can access a digital menu on their mobile device by scanning a QR code. The QR code is typically located on a sticker on the table, or a table topper with a flyer inside. You can offer this by creating your own flyer or stickers. 
The digital menu then shows the full menu at the restaurant, including prices, descriptions and high quality images.
Guests browse the menu and add items to their cart. When they are ready to order, they simply click submit order. 
Before an order is submitted, a guest must enter contact information and a payment method. Submitting these details creates a "Digital Tab" for the diner. 
Once submitted, they are able to continuously order throughout their dining experience. 
When the diner is ready to leave, they simply pay the tab. It's also extremely easy to pick up the whole tab or pay for other items at the table.
If a diner forgets to pay the tab, the restaurant can automatically charge the card on file. 
What are the benefits of digital menu ordering?
Better Service & Guest Experience
It has been proved that using digital menu ordering for restaurants can improve guest experience as well as staff efficiency. Digital menu ordering allows you to take your staff to take hospitality to the next level, freeing them from time consuming tasks. Taking orders, punching them into a POS and using payment terminals are all low-value yet time consuming tasks. 
Furthermore, a study showed that 73% of diners agree that interactive restaurant technology such as ordering or splitting the bill from their phone improves their guest experience.
The modern diner hates waiting.. for anything. They are used to getting everything they want, when they want it, all from the comfort of their phone. 
Increasing staff efficiency directly results in a better guest experience.
Don't take it from us though, we've compiled real reviews from real people using OrderUp's digital menu ordering.
When guests are happy, they tip more. Allowing your guests to order whatever they want, when they want only contributes to a great customer experience. Our internal data based on over 20,000 transactions shows an average tip of 21%! 
Reports suggest that that QR Code ordering and payments from digital menus will grow 240% by 2025. Send us a message if you'd like to learn more, and get ahead of the curve.

Shoot us an email at: [email protected].
Cheers