Contactless Room Service for Hotels
Streamline Your Room Service Offerings by using Mobile Friendly Digital Menus and QR Code Ordering
Room service is great way for restaurants to boost their average revenue per room available, while also providing guests with an elevated level of hospitality and service. On the heels of covid-19 and changing consumer behaviors, it may be time to consider a digital, contactless room service solution. Not only does it support your guests by being a safe way to order, it can actually entice them to order more and improve your restaurant & hotels operational efficiency.
What is Contactless Room Service?
Room service has been around for a long time, and quite honestly, by nature it tends to be quite contactless in general (leave food at door, for example). When we're referring to contactless room service, we mean guests can order and pay for order directly from their mobile device – without picking up a room phone, making a call, or touching a physical menu.
How Do Hotel Guests Place Orders?
Guests can place orders by simply scanning a QR code located in their room. From there, it will ask them for their information such as name, email and room number. They will then be taken to a mobile-friendly version of your associated restaurants menu, where they can place their orders and pay directly from their phone! There's also options to choose between delivery to room, or pickup from the lobby or restaurant. Depending on how your hotel's room service operation currently operates – you're able to add or remove fees where applicable. See below the examples of what a guest at your hotel would see, when placing a room service order from their phone.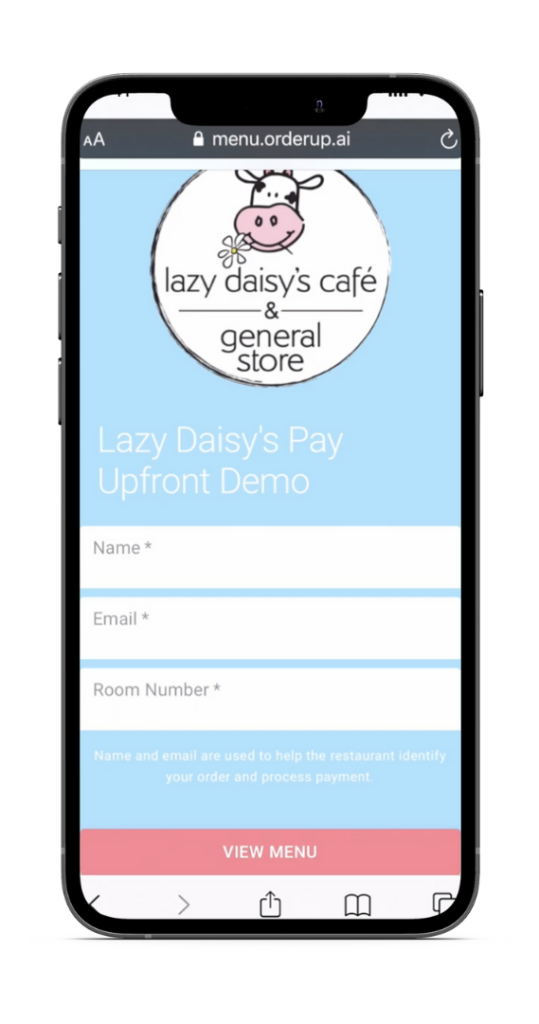 What a guest would see after scanning the QR code in their room when ordering contactless room service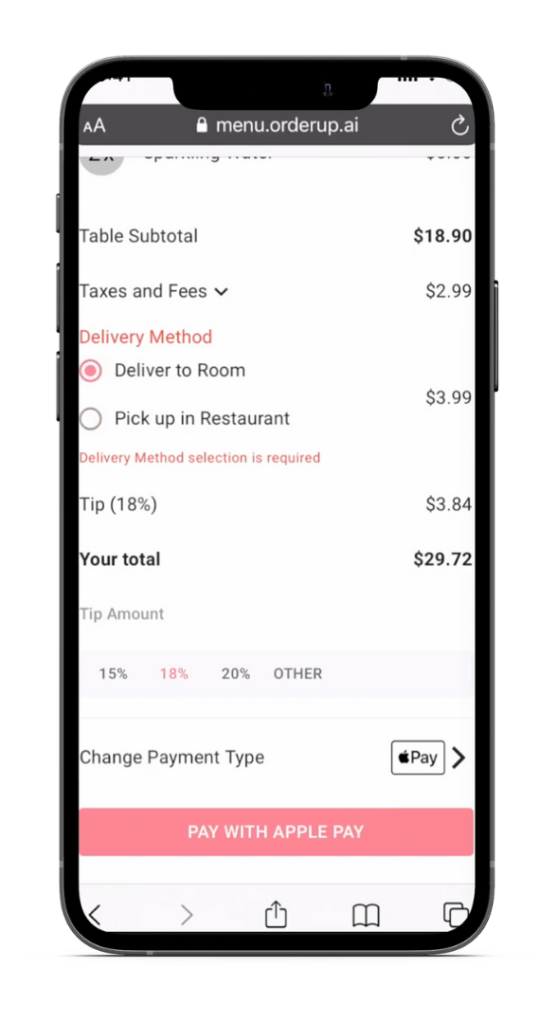 The payment screen, after a guest has placed their order, showing the option of deliver to room, gratuity and other pricing options.
How Does the Restaurant or Kitchen Receive Orders?
All orders go to a centralized kitchen display system (KDS) for review and confirmation. Again depending on the layout and operational flow of your kitchen, orders can be either accepted and sent to a chit printer in the kitchen, or accepted straight from the simple point of sale.
There's the ability to make changes to the order, and alert guests if necessary. This is helpful for allergies, dietary restrictions, or if you've forgotten to 86 items. Once orders are approved and paid for, you're also given the ability to set an estimated time of arrival (ETA) to let your guests know when they can expect their food to be ready or delivered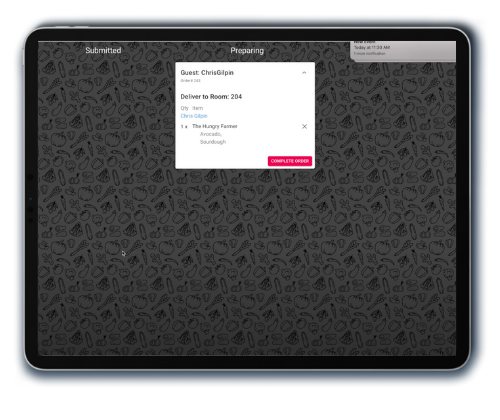 The
 Benefits of a Contactless Ordering System for Room Service
There are many benefits of adopting a contactless room service ordering system for your hotel and it's restaurant. From guest safety expectancy to increasing average revenue per available room.
1.Guest Safety Considerations
Given the past year, Covid-19 and restrictions there are many benefits directly related to consumer expectations as travel begins to pick up. Here's how Hotel Business describes consumers sentiment towards cleanliness, and their concerns:
"Even as concerns around COVID cease, a renewed focus on cleanliness is likely to remain for many guests. Hotels can regain an edge by limiting guest interactions with high-touch surfaces while improving the overall guest experience." 
Plus,  in The American Hotel & Lodging Association's 2021 State of the Hotel Industry Report, they find that guests continue to rank enhanced cleaning and hygiene practices as their second priority, just behind price, when selecting a hotel. This demand for visible cleaning and minimal contact will be expected well into the future and will continue to strain housekeeping staff if processes don't change to accommodate new workflows. 
By taking a small step and offering a streamlined touch-free room service option, it only supports your guests contactless expectations and experience.
2. Improved Operational Efficiency – Labor Costs
In a traditional sense, contactless ordering and payment from a guests phone helps improve operational efficiency for metrics such as table turnover. It removes the low-value, time consuming steps an employee has to take in order to place and receive payment for a meal. This includes taking the order over the phone, punching it in, and receiving payment details, whether it's billed to the room or done by credit card over the phone. Even if you can shave off a few minutes in the ordering over the phone process, this frees up your staff to do what they do best – provide great hospitality. 
With a pent-up demand for travelling and hotels, combined with a nation-wide labor shortage – using a contactless digital ordering system has the ability to impact rising wages and labor costs. 
3. Increase Average Revenue Per Available Room (RevPAR)
With the rise of contactless dining, ordering and payment – it has also come with a change in how consumers perceive value and make purchases – specifically from smartphones. Research points towards mobile devices and humans impulses as drivers of purchase decision & behavior. Contactless ordering has the power to both entice guests, while helping increase a hotels average revenue per available room (RevPar).
In a recent article "Research on mobile impulse purchase intention in the perspective of system users during COVID-19" published in the Journal of Personal and Ubiquitous Computing, the authors state: 
"Mobile shopping and impulsive purchase are also derived from the stimulation of mobile shopping environmental factors. By awakening the intensely positive emotions of consumers to feel pleasure, then generate a tendency of impulsive purchases." 
This is one of the many reasons why we see increases of anywhere from 12% to 30% in average check size from guests ordering anything off of their smartphone. In a room service or hotel-centric point of view, consumers are already booking in an impulsive manner. The hospitality industry has seen a 150% surge in travel-related searches for "today" and "tonight" in the past three years. Not only that, but more than 60% of U.S. travellers would consider an impulse trip based on a good hotel or flight deal. 
Given the nature of travel and hospitality, through post-covid lense – providing a contactless, mobile ordering system for room service can greatly improve the number of guests placing orders, and the ticket price of those orders.
Contactless Room Service and Mobile Ordering Solution
All that's described above can be made possible through OrderUp. And the best part? It won't cost you or your restaurant a dime. We pride ourselves on being a truly free platform for our partners in hospitality. 
We already work with a number of hotels (and their restaurants) across the United States and Canada to deliver a streamlined, contactless, mobile room service ordering experience. 
For a tutorial on how exactly this system works, please check out the video below. If it seems like something worth discussing or learning more about, we'd love to hear from you!