4 Tips On How To Get The Most Out Of Your Restaurant Promo Codes
How to promote your restaurant promotions & some best promo-practices
Promotions (such as promo-codes) are a great way to attract new customers to your restaurant, and build loyalty with your existing customers. Follow these steps to make sure you're getting the most out of your promotion!
1. Setting Promo Goals & Testing
This goes without saying, when using promotions or promo codes, it's always good to have a goal in mind. Perhaps it's getting people through the door for dine-in service or increasing the volume of online takeout orders, or both!
Regardless, setting these goals can help you reflect, iterate and optimize future promotions to drive more growth.
Tips for testing promotions
Pick a measurable result: For example, if you want to use a promotion to get people dining-in, select a metric that can be easily found, and has historic data so you're able to compare. 
Define a Time Range: Choosing a specific time range for your promotion ensures that when you compare promotional campaigns, outside factors like time do not skew results.
Some examples of metrics to measure success of a promo campaign could be: 
Number of Transaction
Total Sales 
Average Basket Size
Table Turn Time
An example of goal setting could look like this: 
"I want to increase total sales by 20% during the month of November, compared to October"
Even if you don't reach the goal, you should be able to pull insights into why. Maybe the goal was too aggressive, maybe the promotion wasn't enticing enough, maybe the marketing wasn't up to par. Either way, test again!
When using OrderUp's promo codes, you can track all your promo-related data and results in real time. Plus, pulling specific results based on specific time-frames is easy as 123. 
Promote the Promotion on Social Media
There's a sleuth of reasons to promote your restaurant (and promo codes) on social media. Put simply, it's the easiest and cheapest way to communicate with your customers, and reach new potential customers. 
Here are some insights into why you should promote your restaurant and promos on Instagram: 
42% of diners say they have interacted with restaurants at least once on social media platforms, and of that group, 66% said they are more likely to order food from the restaurant. 

Nearly half (45%) say that they have tried a restaurant for the first time after visiting their social media. 

Out of the 39% of Americans who follow restaurants on social media, 40% of them do it mainly to help them determine if they want to dine in or order food from the restaurant.

More people crowdsource (search) opinions before making dining decisions—especially millennials, who are expected to inject an additional $6 billion into the restaurant industry in the years to come.

Millennials and Gen-Z are 99% more likely to rely on social media and reviews to make a decision than other generations.
Tips for promoting your restaurant or a promotion on social media
Video is the best in 2022, and will continue to be in 2023. Video content has grown in popularity tremendously over the past few years.


88% of people would like to see more video from brands in 2022, which is an increase of 3% from the last year.

Almost 93% of brands say they got new customers due to the videos posted on their social media accounts. In turn, algorithms now favour video content over static images. Videos simply increase your chances of getting discovered by new customers.  Note, videos don't need to be professional to be successful and have a larger reach. A simple smartphone video can do the trick. 

Have a Dynamic "Link in Bio": Use a free tool such as Linktree to have multiple links available in your bio. That way, when someone sees your post about an ongoing promotion, they can act immediately. Some links could include an "Order Takeout", Menu or Make a Reservation. Ideally you make it as easy as possible for potential customers to act.
3. Promote via Printed Materials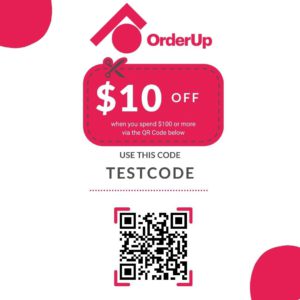 Although not as flashy as social media videos, print is not completely dead!
Today, it can be quite cost effective to print out small marketing materials to help drive visits or a specific ordering method. 
Some examples include business cards, flyers etc. The goal of these is to make them as functional as possible. Meaning, they serve a purpose beyond getting thrown in the trash. 
Here are just a few of the ways your restaurant can leverage printed goods to help drive traffic or orders: 
Staple the promotional card onto all delivery orders

Hand it out to walk-in customers

Include it with the receipt at the end of a dine-in meal

Cross promote with another local business (example, ask your neighbour to had them out during checkout or have them available at the counter)
Here's a checklist to on what to include in the print out: 
The Promo Code (Whatever it is, you have full control over naming)

What the promotion is

Duration & Timeline

Name of Restaurant & Logo

Location

Hours of Operation

Ordering Link 

Ordering Link QR Code 

QR Code that directs to the menu
Tips for Promoting via Printed Materials
Use Canva if you're not design-savvy: Canva is a very simple online design tool. It comes with tons of pre-set templates making it quite simple to make visually appealing business cards or print outs. 
Shop around for printing partners: Vistaprint will probably be the cheapest, especially if you're a first time customer. Some of our favourites in Toronto and the GTA are The Printing House and Jukebox. Regardless, we recommend doing a little bit of research or calling around so you can get the cheapest price possible, and maximize your promotional ROI.
4. Percent Off vs. Dollar Off Promotion
Ah…The classic debate. Percent off versus dollar amount discounts…Which one is better and drives more sales?
Well, there's an easy rule of thumb here:
Always consider the Rule of 100. Popularized by Marketing Professor, Dr. Jonah Berger, suggests that for items or services over $100, using a dollar discount will be more effective. For items or services under $100, a percent discount will be more effective due to psychological perceptions.

For example, an offer like "Spend $100, get $10 off" would outperform an offer that's phrased as "Spend $100, get 10% off."
Furthermore, 74% of shoppers online prefer discounts that indicate a "percentage off " savings. 
Long story short, it's probably best to use percent off promotions unless the promo breaks the $100 spend mark.
See below to see how easy it is to set promotions and promo codes with OrderUp below. 
Tips for Percent Off vs. Dollar Off Promotions
Test your promos: There's so much to consider with promotions and restaurant sales. If you're comfortable, test different promotions! The most successful companies in the world are consistently testing.
How to Set a Promotion and Generate a Promo Code
Restaurants that use OrderUp are able to set promo-codes within seconds. They're also able to track results in real time. 
Click through the images below to learn how to set Promo Codes for your restaurant.
If you're interested in learning more about OrderUp's promo codes – get in contact with us. 
We provide restaurants with intuitive software, built for the future of hospitality. If you're a forward thinking restauranteur, we'd love to get your opinion on what we're building. 
Thank you and all the best!
– The OrderUp Team